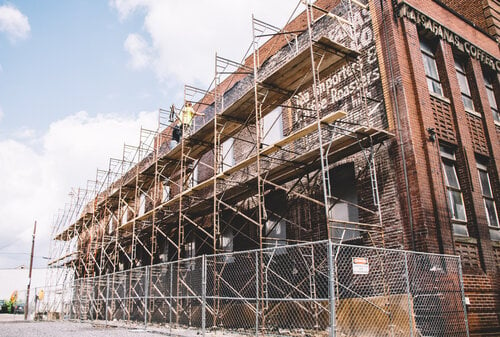 Commercial Masonry, Restoration, and Concrete
LINTEL / BEAM REPAIR AND REPLACEMENT
Proper maintenance and care for your steel and masonry lintels is crucial to guaranteeing the structural integrity of the wall above
CHIMNEY & STACK REPAIR
A deteriorating or leaning chimney is dangerous. Ensuring that your chimneys are built correctly is critical. Commercial brick smoke stacks can be difficult to access safely, but with many different scaffolding options, these types of projects can be completed on time, without incident, and within your budget.
POINTING
The technique of repairing mortar joints between bricks or other masonry elements. When aging mortar joints crack and disintegrate, the defective mortar is removed by hand or power tool and replaced with fresh mortar.
MORTAR AND BRICK MATCHING
With careful preparation and the right mortar recipe, new bricks can blend seamlessly into existing, making the repairs look like they were never made. Using softer mortars due to frailty of original masonry units.
GROUT INJECTION
A method of repairing or strengthening masonry walls that utilizes a low-pressure injection of fine cement grout into cracks, voids, and or collar joints. Grout is injected through holes drilled to fill internal cavities.
BRICK AND STONE CLEANING
Cleaning your masonry walls is a cost-effective way to bring new life into your existing masonry. Every stain is different and needs individual diagnosis on the safest detergents and procedures to use.
MASONRY SEALING
Using breathable, clear-dry water repellants to help masonry resist cracking, spalling, staining and other damage related to water intrusion.
NEW CONSTRUCTION
New construction consists of stone and brick veneer installation, foundations, and interior décor.
PARKING GARAGE MAINTENANCE
Damage from constant vehicular movements, salt damage, and weather is inevitable in parking structures. Concrete restoration, deck coating, line painting, caulking and sealant replacement are just a few of the common services included.
CONCRETE - NEW & RESTORATION
Commercial concrete installation and restoration can include patching, repair of parking garages, decks & structures, sidewalks, curbs, steps & walkways, ADA ramps, loading docks, power washing, cleaning and/or sealing.